Here we are once again, friends. knee-deep in controversial NBA playoff basketball and last night's Clippers/Jazz matchup layed the groundwork for another opportunity at history. Fresh off of a pivotal Game 5 win in Salt Lake, The Los Angeles Clippers (once again) find themselves just one win shy of the franchise's first Western Conference Finals appearance.
The community surrounding L.A.'s "other" team knows the signifigance of this achievement but ask Kawhi Leonard what a WCF means to him (skip to 4:41):
While the franchise has been eyeing this stage for roughly a decade, the two-time NBA Champion keeps his eye on ultimate prize.
Three out of the last seven seasons have reached this precipice for L.A. with two devastating 3-1 collapses in 2015 (Houston) and 2020 (Denver). Times change, players change, but what ultimately does not change is exponential difficulty of closing out a 7-game playoff series in the NBA (most likely without the services of Kawhi).
Leonard has been a bell cow for Los Angeles offensively and defensively. Simply put, he leaves a gaping maw of production for other members of the squad to fill. Injury news that 'The Klaw' tweaked his knee late in Game 4 would alter the perception of this second round series. Local fans and NBA enthusiasts alike wondered if the Clippers would even have an identity Wednesday night in Utah.
Paul George was the identity.
PG heard the noise 🤫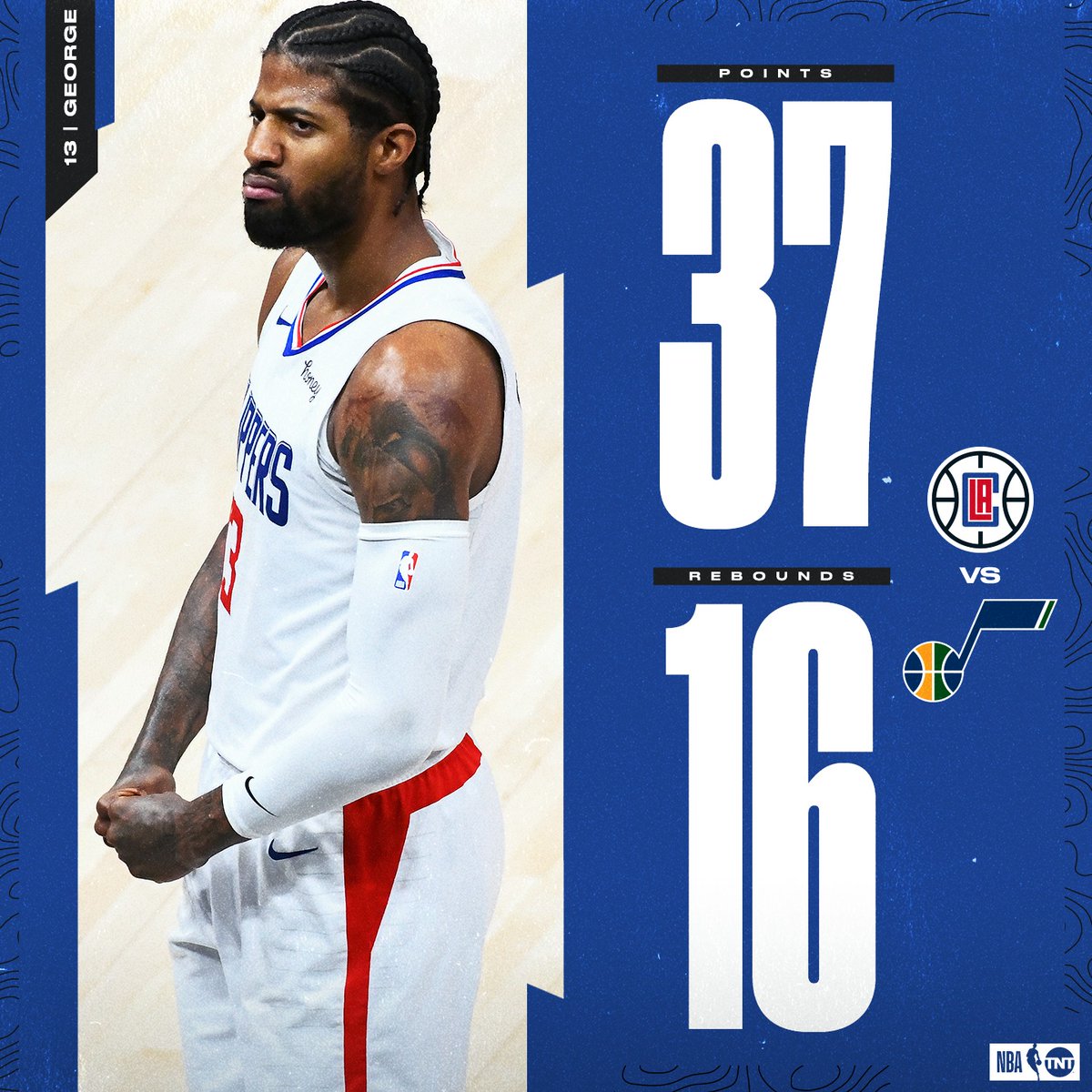 Originally tweeted by NBA on TNT (@NBAonTNT) on June 17, 2021.
One of the more slandered superstar players in recent history answered when the bell tolled. Paul George finished with a line of 37 | 16 | 5 10/11 FT and put the team on his back much like that of his injured counterpart. PG-13 and Co. displayed great defensive adjustment in the second half curtailing Bojan Bogdanović's impressive night to 32 and restricting a hobbled Donovan Mitchell to 21 after monster performances in previous games. Utah hit 17 3's (51 points) in the first half of Game 5 but would only have 9 points from deep in the second half.
Head Coach Tyronn Lue also deserves credit for making in-series and in-game adjustments to optimize the performance of his ball club. Reggie Jackson has been the best PG on the floor for LAC in this series and as a result saw 37 minutes of action again Wednesday tallying 22 | 2 | 3 2STL/2TO. Jackson has played 25+ minutes in 10 of 12 games this postseason after seeing a grand total of 33 minutes in last year's 7 game series against the Nuggets.
Lue has also adjusted his lineup accordingly against Utah by limiting the number of minutes C Ivaca Zubac has played. Both in last year's Orlando bubble and this year's playoffs, the opposition's talent at C has been superior to L.A.'s causing a mismatch for Lue to remedy. Veteran PF Nic Batum saw more minutes than anyone on the roster in Game 5 with 42. Furthermore, Rookie Terrance Mann has helped the Clippers go smaller when 3-time Defensive Player of the Year Rudy Gobert looms under the basket.
Mann met Gobert at the rim late in Game 5 for the vicious dunk and subsequent mean mug.
TERRANCE MANN YAMMED ON RUDY GOBERT. 🤯😱
Originally tweeted by House of Highlights (@HoHighlights) on June 17, 2021.
It has been another up and down playoffs for the Clippers overall, working into 0-2 holes to start both series. Even so, the Clips have responded thus far and now hold a 3-2 series lead, one victory from a date with the Phoenix Suns in the Western Conference Finals.
Looking Ahead: all the pressure is on Los Angeles to close out the series at home, as Charles Barkley alluded to during his postgame comments on TNT.
"Their Game 6 is Game 7."
Chuck on the Clippers' mentality heading into next game.
Originally tweeted by NBA on TNT (@NBAonTNT) on June 17, 2021.
The Clippers got a "free swing" at the Jazz without Kawhi Leonard becuase no one expected them to win. Now, they must handle their business at home or face a potential Game 7 on the road. In rebuttle to Barkley's point about a "free swing", the Clippers did get to play more freely but also deserve credit for finding a way to win a high-octane basketball game. Utah did not mail this game in. Bogey was a flamethrower from deep and some of Donovan's fatigue/limitation can be accredited to the aggressive style of basketball Los Angeles plays. Charles is correct in the respect that L.A. could go out and play without limits, but this game instilled confidence that the Clippers are good enough to beat Utah WITHOUT Kawhi Leonard regardless of their ability to replicate the experiment. That will be the true test if Kawhi is not available for Game 6. If the Clippers fail to handle business Friday at STAPLES, a raucous and overwhelming Vivint Arena awaits them in Game 7.
If you are the Clippers, as Chuck pointed out, DO NOT LET THIS GET TO A GAME SEVEN.
Game 6 is set for Friday, June 18th @ STAPLES Center*. Tip-off is set for 10:00 EST on ESPN following Hawks/76ers.
*This will be the first 100% capacity crowd in STAPLES Center since the 're-opening' of California.